If you're looking for exhibition stands in Stirling for company event, meeting or most of all an exhibition, Wee Print are here to help. We provide a range of exhibition stands across Stirling for businesses looking to promote their business in the best possible way. Whether you're working on a tight budget or have a limitless target on what to spend, we can help. Wee Print provide exhibition stands in Stirling for all budgets and are happy to help with the design too.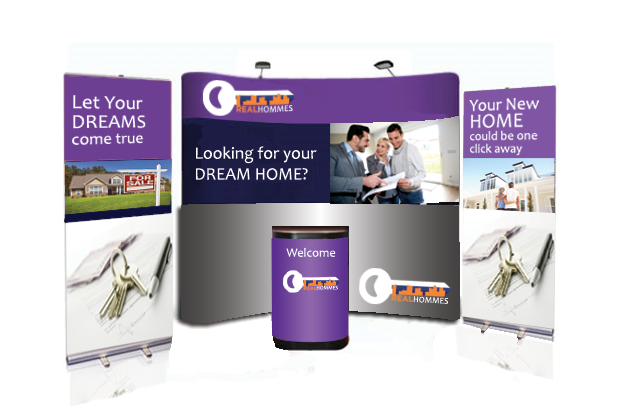 As a local Stirling based printer, Wee Print are on hand to bring your dreams of printing to reality. From a Complete Exhibition Package to our Promo Counter, we're confident to say that we have the right variety of exhibition stands to meet all of our clients needs. All of our exhibition stands are designed to cover every need. From stands that allow you to be behind the actual print to promote your business to stands that are designed to be the backdrop of your event. Each and every one of our stands can be used to promote your business as a whole, or with individual services and if you take a closer look at our range of Exhibition Stands you will notice which is best for you.
Exhibition Stand Printers Stirling
As exhibition stand printers in Stirling, we are dedicated to provide a service that works for you. For all of your advertising needs, Wee Print hope that you choose our team for your exhibition stand printing in Stirling. Our team are experienced in exhibition stand printing across Stirling and are here to help your business thrive. From curved banners to straight, Wee Print have a variety of sizes, finishes and prices of exhibition stands to suit you. So upon looking for exhibition stand printers in Stirling, Wee Print are the team for you.
Benefits of Exhibition Stands
What are the benefits of exhibition stands? From increased awareness to a complete package of your businesses services, we think very highly of exhibition stands. If you're looking for the benefits of exhibition stands and how they can help your business, Wee Print have the answer.
Easy to store
Provides all the necessary information for clients
Opens doors
Eye catching way to attract people to your stand
Many uses
Durable and long lasting with the ability to reuse
Dedicated branding to suit
Bespoke designs to stand out from the crowd
Regardless of your needs for an exhibition stand, Wee Print are here to help. With years of experience as printers in Stirling, we're here to take care of all your printing needs. Not only that, our team pay great attention to detail, so if you're looking for a top quality exhibition stand printer in Stirling, Wee Print are the team to call. We're more than confident that you will love our quality of work. Don't settle for second best to compromise price, have both with Wee Print, it's what we do!
Call Wee Print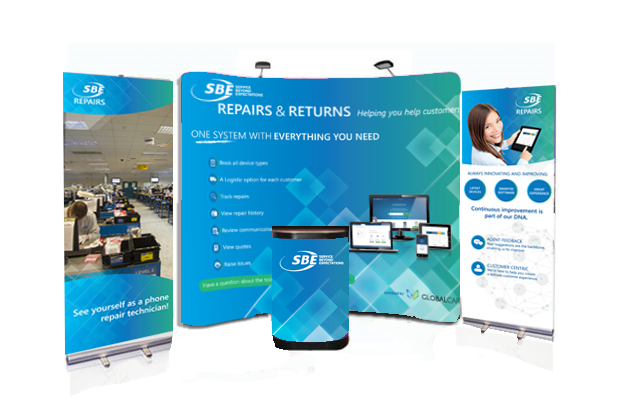 For all of your printing needs throughout Stirling and the surrounding areas, choose none other than Wee Print. Our team are gifted with years of experience as reliable printers and are at your call for all of your printing needs. From exhibition stands to something a little smaller, Wee Print are the number one choice for many in search of printing in Stirling.
Browse through our range of exhibition stands and discover more on the services we provide. All of our prints, regardless of their size are produced at the highest quality, ensuring complete customer satisfaction. So choose Wee Print in Stirling for all of your printing needs, your printing is our main priority. Get in touch with Wee Print today if you wish to find out more about our printing services. Simply call us on 01259 572097 or email us to get in touch with a member of our team.