We think managing your Wee Print account and dealing with invoices should be simple. You can do most things online, but if you need support, you'll have all the help you need.
Online payments
Credit/Debit Cards
You can pay at checkout with your credit or debit card. We accept Visa, Visa Debit, Visa Electron, American Express, Mastercard, Maestro & Solo.
PayPal
You have the option to pay with PayPal at checkout. Once you hit Submit Order, the PayPal payment gateway will launch and you will be prompted to login to your PayPal account or use their guest checkout and confirm payment.
Is my payment secure?
Yes, we use SSL (Secure Sockets Layer) to prevent potential attackers from viewing your card details. We don't store your card details on our servers, so it is not possible for anyone to view this information. Some card types also use Verified by Visa or Mastercard Securecode to provide enhanced security. You will be required to enter your password to these to continue with your payment. Our payment provider is fully PCI compliant.
I am ordering for my company, but there isn't a company credit card I can use. Do you accept any other form of payment?
Yes, we can give companies a Credit Account so you don't need to pay online each time. You will be billed by invoice with 28 days payment terms. See Account Payments section below.
Can I pay with cash or cheque?
We do accept cash on picked up orders only. You may pay with a cheque if you have a Credit Account, otherwise all payments must go through the website when you order.
Account payments
If you are a returning business customer with a Credit Account with Wee Print, you will be sent an invoice. We operate with paperless billing, so invoices will always arrive as a PDF via your account email address. From the date of the invoice you have 28 days to pay. If you need a copy of your invoice please contact us.
How do I pay an invoice?
You can pay by BACS or Cheque.

BACS payments:
Make sure to use your Wee Print account number (which is on your invoice) as your reference so we can allocate the payment to your account. (contact us for details)

Cheque payment – send cheques to:
Wee Print Ltd., 18 Fenton Street, Alloa, Clackmannanshire FK10 2DU
Accounts on hold
Accounts that are overdue will be temporarily suspended which prevents any further orders being placed. As soon as we receive payment your Account can be active within minutes. Please contact the Accounts team by phone if you find yourself unable to order so they can help rectify the problem.
Ordering help
We accept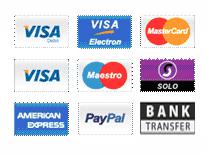 Contact us
If you have a query or find your account on hold our accounts team will be happy to help. Call us now on 01259 572097 or alternatively email contact@weeprint.co.uk
Other payment information
Promo codes
If you have a promo code, please enter the code on the Checkout screen and hit the Apply button. Promo codes cannot be applied after the order is processed. If you have any trouble with your promo code please contact us before submitting your order.
VAT details
VAT will be added to your invoice at the rate prevailing at the time of order, currently 20%. If you have any queries regarding VAT please visit our VAT page.
VAT exemptions
A number of print products are VAT exempt. We have automatically removed VAT from these items in the ordering process where applicable. More information on VAT can be found here.
How do I change my contact details/address etc
You can change your details in the My account section. Click on My profile followed by Edit profile. Make the necessary changes, and then hit the Save button once you have finished.
File copies (Proofs)
File copies are one extra copy printed of each item in your basket. These additional copies will not be dispatched with your main order, they will be delivered by Royal Mail straight to the your Wee Print account address. You can see file copy charges on the checkout page. File copies are not available with large format products.
Delivery?
Please go to our Delivery page.